Congratulations to all the award winners!
Permanent Project (Mental Health)
Alpha Lambda Chapter: Outrace the Stigma 5K
Alpha Lambda planned a 5K run on our Centennial Campus to raise money for NAMI and to raise awareness about the stigma surrounding mental health. Overall, we raised over $1,500 for NAMI.
President's Project (Childhood Obesity)
Chi Chapter: Shake It In Shape
Chi Chapter launched "Shake it into Shape," a partnership with local after school programs to raise awareness about childhood obesity and introduce preventive measures.
Community at Large
Omega Chapter: Parker Senior Center
Omega partnered with the Parker Senior Center, assisting with organizational tasks and other jobs. We also participated in the Senior Citizen Prom at Rutgers University.
University Community
Rho Chapter: Big Red Stars
Rho hosted a Big Red Stars event to honor members of Western Kentucky University's faculty and staff who made significant contributions to the campus community.
Members of the Sorority
Alpha Omicron Chapter: Self-Defense Class
Alpha Omicron partnered with the University of Florida Police Department to hold a private Self-Defense Awareness and Familiarization Exchange (S.A.F.E.) for our sisters.
Nations of the World
Omega Chapter: The Pad Project
Omega participated in the Pad Project, which is run by the organization Too Little Children and works to provide reusable sanitary pads for women and girls in Kenya.
National Service Award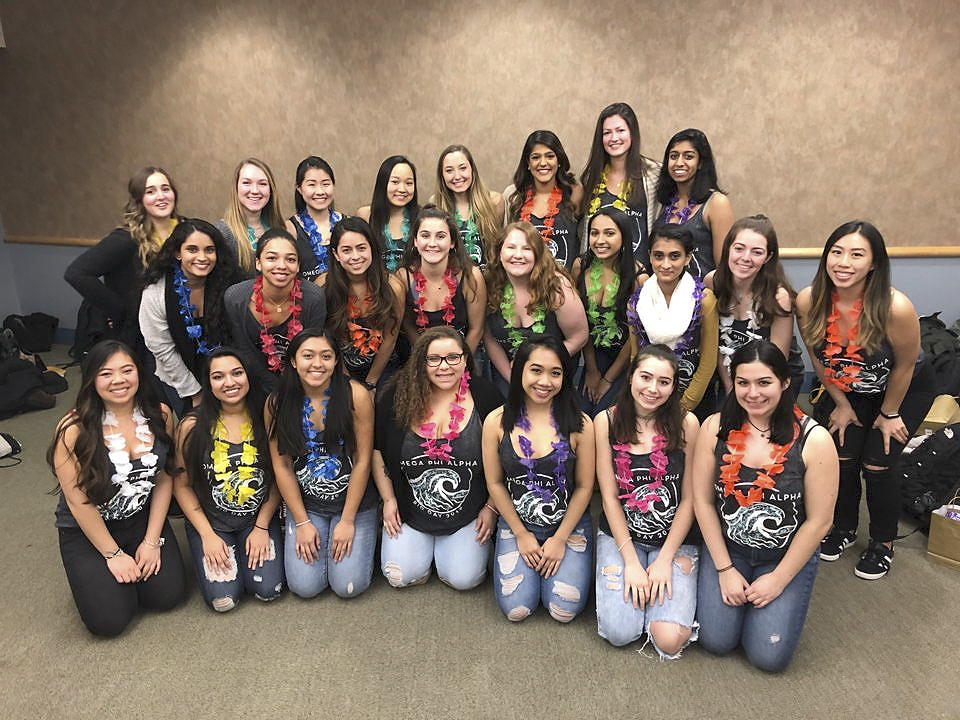 Omega Chapter
Omega Chapter earned the National Service Award, the most distinguished yearly service honor, which recognizes the highest cumulative score of the six areas of service. Omega won two area of service awards in Community at Large: Senior Citizens Home, and Nations of the World: The Pad Project. In addition, Omega submitted another noteworthy award in Members of the Sorority for their project Mind, Body, and Spirit, which included sisters' participation in fitness and wellness activities.
Chapter Excellence Program
Gold: Nu, Alpha Kappa
Silver: Alpha Omicron
Bronze: Omicron, Rho, Alpha Alpha, Alpha Mu
Outstanding Chapter President
Lauren Linn, Alpha Mu
Habiba Fayyaz, Chi
Aubrey Keeling, Rho
Morgan Martin, Rho
Cara Heise, Alpha Alpha
Stephanie Schnur, Nu
Riley Waggle, Alpha Omicron
Robyn Fishman, Alpha Kappa
Katie Fallon, Omicron
Outstanding Chapter Vice President
Rebekah Burgweger, Alpha Kappa
Leah Pendley, Rho
Mellat Yilma, Alpha Mu
Lela Myrick, Nu
Leah Greene, Rho
Sarah Lemke, Gamma
Marissa Remedios, Alpha Omicron
Outstanding Chapter Service Director
Rebecca Housh, Alpha Mu
Emily Bonasia, Alpha Omicron
Jackie Whitus, Gamma
Shelby Conway, Nu
Malak Muhammed, Nu
Sabrina Lerma, Alpha Alpha
Christine Haworth, Alpha Omicron
Outstanding Membership Director
Adrianna Sputa, Gamma
Sara Palmiotti, Alpha Omicron
Corey Goodburn, Alpha Kappa
Kristin Fravel, Alpha Kappa
Kayce Russell, Rho
Olivia Daouphars, Chi
Elizabeth Hammond, Chi
Monica Gabriele, Alpha Alpha
Abbey Wood, Omicron
Anna Bollag, Nu
Sarah Lewis, Omega
Sophie Brantingham, Alpha Mu
Outstanding Chapter Secretary
Taylor Blanchard, Omicron
Corinna Shimalla, Nu
Harlee Havens, Rho
Hannah Ray, Rho
Nicole Pate, Alpha Alpha
Claire Johnson, Alpha Mu
Kelsey Pecenka, Alpha Omicron
Outstanding Chapter Treasurer
Devan Burris, Alpha Kappa
Corin Hill, Alpha Alpha
Kalie Compton, Nu
Aubrey Keeling, Rho
Allison Kurfiss, Rho
Outstanding Chapter Alumnae Liaison
Allison Denny, Rho
Gabby Hoffman, Rho
Catherine Daniels, Chi
Victoria Inman, Nu
Allison Wood, Omicron
Outstanding Sisterhood Director
Jennifer Franklin, Alpha Omicron
Ashley Reece, Alpha Kappa
Cassie Miller, Alpha Alpha
Outstanding ADO
Karen Campbell, Alpha Kappa
Lucia Lombardo, Nu
Top 10 Individual Service Awards
Julia Danon, Alpha Theta—288 hours
Emily Kalish, Alpha Theta—270.5 hours
Megan Markham, Alpha Xi—258 hours
Madisen Huscher, Alpha Kappa—256.2 hours
Grace Wanamaker, Alpha Theta—191.5 hours
Megan Abel, Alpha Kappa—161.5 hours
Corey Goodburn, Alpha Kappa—160.5 hours
Brittany Bolla, Alpha Theta—155.5 hours
Cheyenne Morris, Alpha Kappa—146.5 hours
Alyanna Torres, Alpha Theta—145 hours
National Marketing Award
Rho
Alumnae Chapter Award
Omega Tau
National Membership Award
Alpha Omicron
Leadership Development
Traditions
Gillian Brooks, Alpha Pi
Kaitlin Giles, Alpha Pi
Michelle Le, Alpha Pi
Jessica Soto, Alpha Pi
Leadership
Erifili Draklellis, Alpha Theta
Megan Markham, Alpha Xi
Malak Muhammed, Nu
Caleigh Shaw, Alpha Delta
Jessica Soto. Alpha Pi
Abigail Vohs, Alpha Kappa