Service is the common thread that motivates and deeply inspires all Omega Phi Alpha members.
Through the years, Omega Phi Alpha members have donated hundreds of thousands of volunteer hours.
In the 2018–19 academic year, collegiate members logged more than 43,103 service hours. The impact and value of these hours is tremendous, equaling more than $430,000 worth of service if each of those hours was worked at $10 an hour.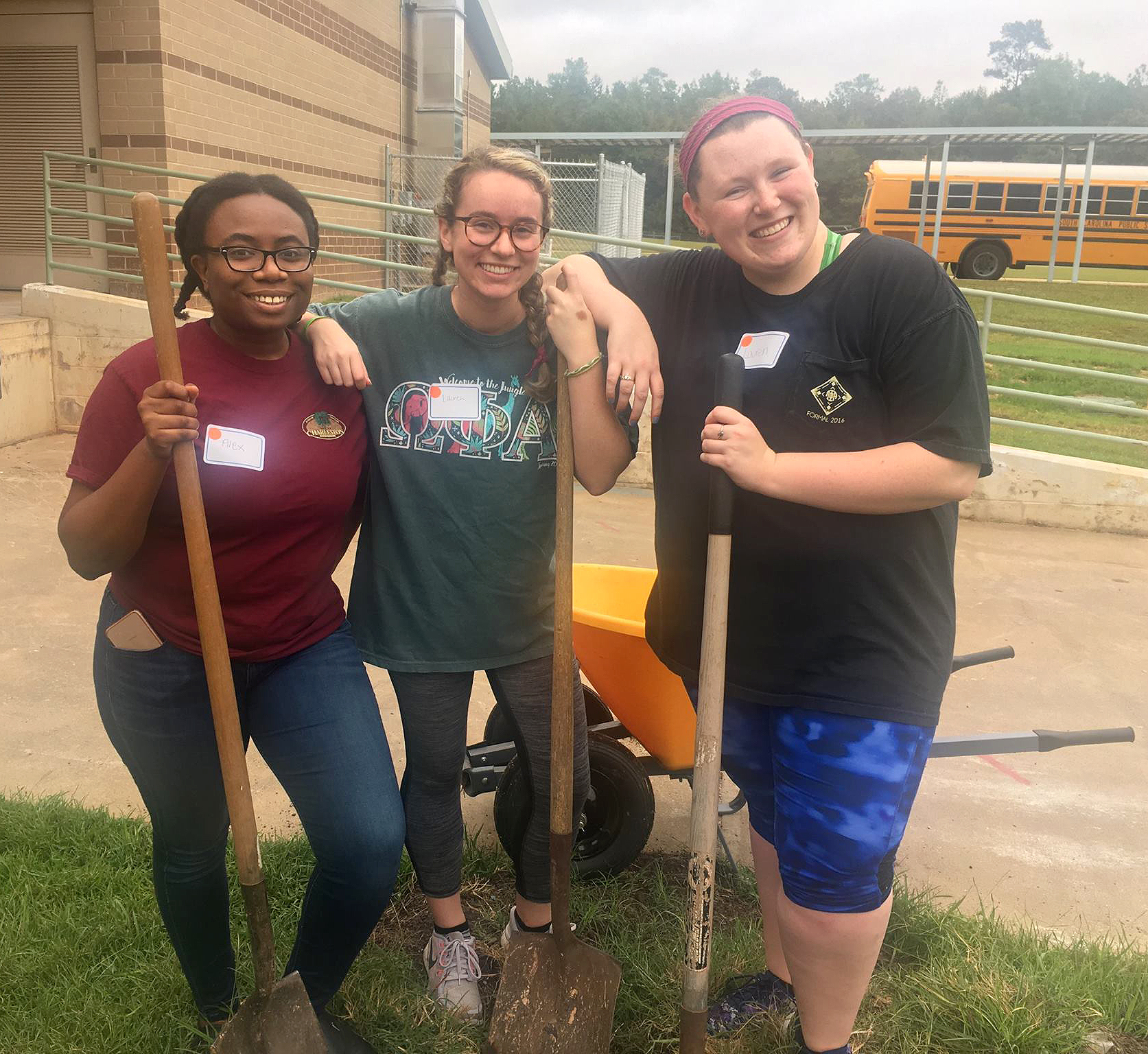 Committed to Six Areas of Service
Members of Omega Phi Alpha join together each year and direct their efforts toward performing chapter and individual service projects in six areas. These areas correspond to the direct beneficiaries of the projects. Each collegiate chapter is required to plan at least six projects per semester.
University Community
Our active members are dedicated to giving back to the community that is preparing them for their post-college ambitions by recognizing the efforts and needs of the university, the faculty, the staff, and fellow students.
Nations of the World
Our members take action through service on issues that impact humanity across the globe.
Community at Large
Our members recognize the significance of their communities and strive to make a positive and meaningful impact.
Mental Health
Our members champion psychological and emotional well-being for all through partnerships with national organizations or projects that address underlying issues impacting a person's mental health.
Members of the Sorority
Our members deeply value their sisterhood and strive to serve each other, both active and alumni, through meaningful, uplifting activities and sincere, steadfast support.
President's Project
Our members dedicate time and effort to support a focused area of service that is designated annually by the national president.
Every sister who joins Omega Phi Alpha does so for the opportunity to serve others.
This desire carries into post-collegiate life and makes alumnae some of the most active volunteers in the country, many devoting more than 20 hours a month to serving others.
Alumnae also continue to volunteer their time by using professional skills to support local charities independently or as part of an alumnae chapter. Others get involved with community programs at churches, shelters, hospitals, or fundraising efforts. Service to the active chapters is also an important way alumnae can stay actively involved.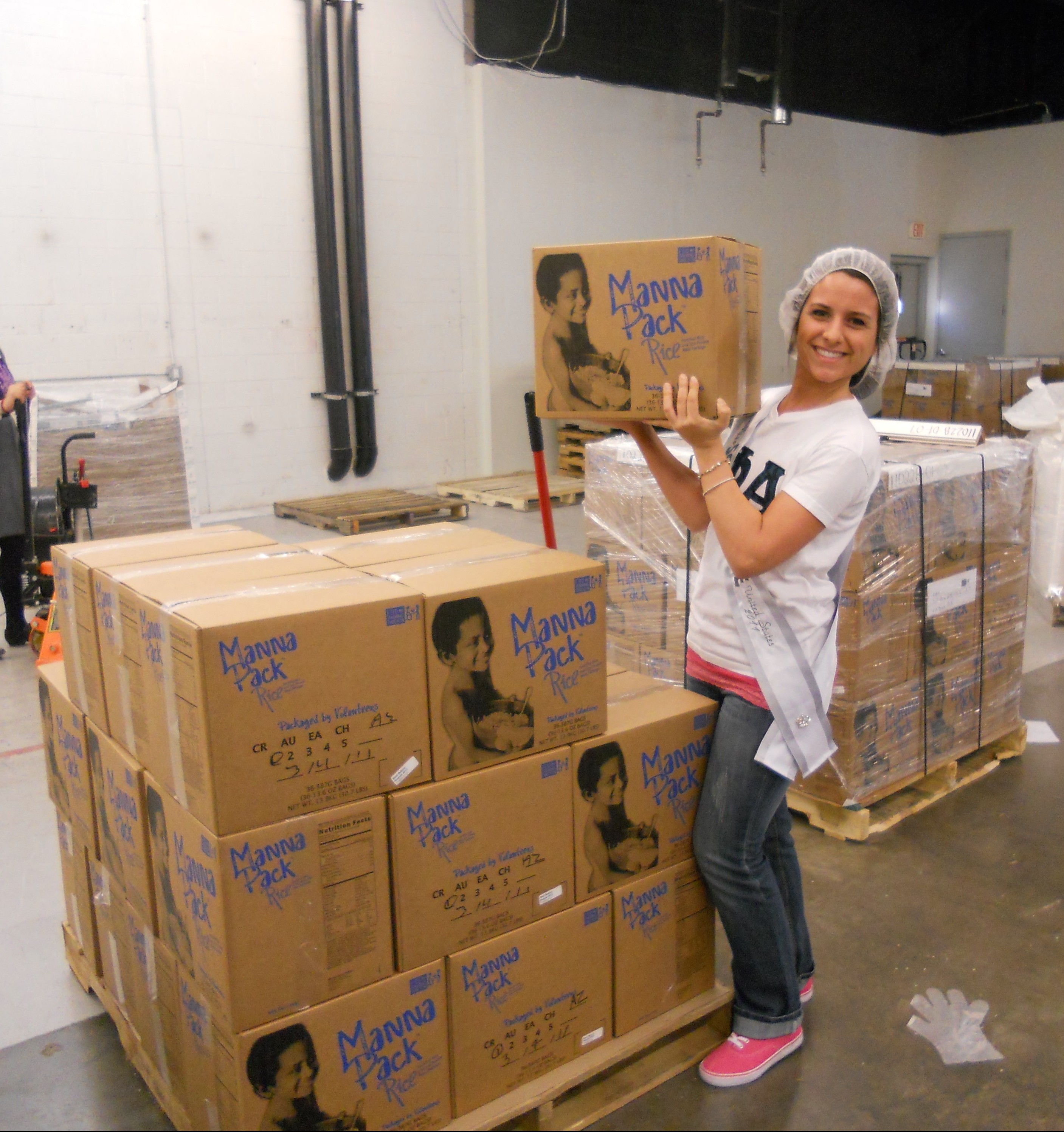 2020–2021 President's Project — Food Insecurity
In June 2020, National President Jan Titsworth named Food Insecurity her 2020–2021 President's Project.
For this year's President's Project, I ask you to join me in addressing food insecurity and hunger in each of our communities. As we develop ways to stock pantries with healthy choices, partner with social service agencies and others to increase healthy options in food deserts, distribute food at mobile pantries, deliver meals to vulnerable populations, or assist with community gardens, Omega Phi Alpha's impact will make a difference to families in need. 
Partial List of Service Partners
Throughout OPA's history, active chapters and alumnae have partnered with various national and local organizations and causes.
Alzheimer's Association
American Cancer Society
Angel Gowns
Best Buddies
Books for Africa
Boys and Girls Clubs
Easterseals
Eat So They Can
Feed My Starving Children
Girl Scouts of America
Habitat for Humanity
Humane Society/ASPCA
Invisible Children
Local food pantries and banks
Local senior centers and retirement homes
Love Yourself Project
Nothin' but Nets
Operation Welcome Home
Project Linus
Reading is Fundamental
Ronald McDonald House
Special Olympics
Sponsor-a-street clean up
St. Baldrick's Foundation
THON (children's hospital dance marathon)
Threads of Hope
Toys for Tots
UNICEF
Wounded Warrior Project
YMCA