Omega Phi Alpha Fast Facts
Mission
Omega Phi Alpha is a sisterhood that serves our communities and develops service-minded leaders.
Purpose
The purpose and goals of this sorority shall be to assemble its members in the fellowship of Omega Phi Alpha, to develop friendship, leadership and cooperation by promoting service to the university community, to the community at-large, to the members of the sorority, and to the nations of the world.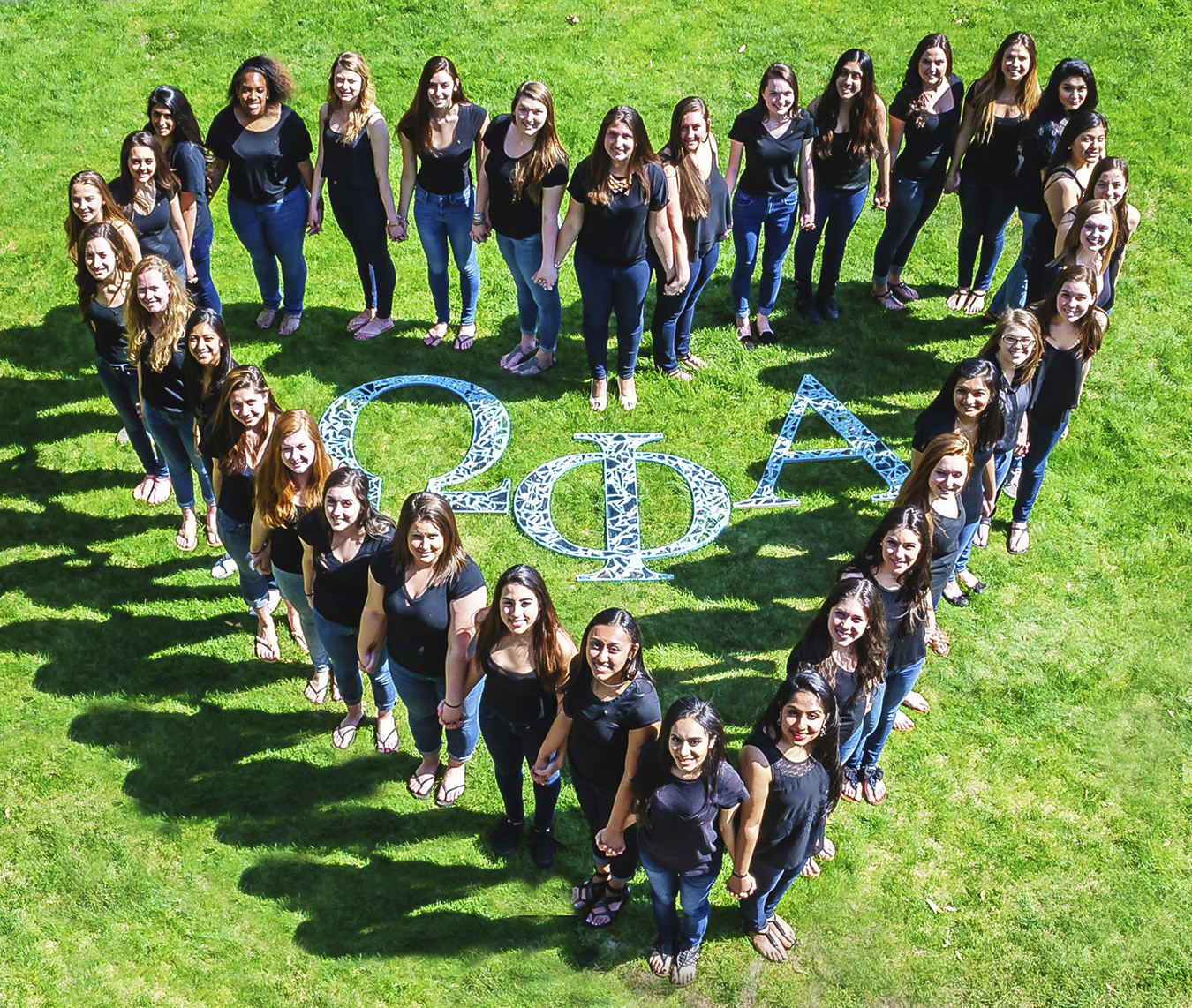 Our Colors
Light Blue  |  Golden Yellow  | Dark Blue
Symbols
The Chevron and the Bee are our two national symbols.
Our Flower
Omega Phi Alpha's flower is the Yellow Rose which symbolizes friendship.
Our Motto
"Today's Friends, Tomorrow's Leaders, Forever in Service."
National Publication
The national publication of Omega Phi Alpha is Chevron.
Service
Promote a culture of SERVICE.
We are committed to creating valuable, meaningful, and impactful opportunities for all Omega Phi Alpha chapters and members through six areas of service – the university community, the community at large, the members of the sorority, the nations of the world, mental health, and the annual president's project.
Tradition
Celebrate lifelong fellowship through TRADITION.
Omega Phi Alpha has long-standing traditions that create, cultivate, and sustain lifelong bonds among all members regardless of chapter affiliation or location.
Sisterhood
Foster a strong bond of SISTERHOOD.
We are an organization that is bonded in friendship through a deep focus and commitment to service. We foster trust, respect, love, and support in our relationships with our sisters and carry that forward into the world through service to others.
Diversity & Inclusion
Embrace the DIVERSITY of our members through a spirit of INCLUSION.
We believe there is strength in diversity and we value the individual differences, experiences, and viewpoints that both make us unique and challenge us. We strive to create an accessible and welcoming space for people of all races, ethnicities, genders, gender identities and expressions, sexual orientations, physical abilities and appearances, religions, and other identities.
Leadership
Develop the LEADERSHIP potential of our members.
Our members demonstrate personal leadership through integrity and value personal growth through service, chapter management, and national leadership opportunities. We are dedicated to fostering leadership among all members of the organization so that they are prepared to serve in leadership roles throughout life – in their profession, on community boards, and other opportunities of their choosing. We strive to provide a fair and equitable process to elect and appoint leaders at all levels to ensure all voices are heard.
Education
EDUCATION is the foundation that equips us to act on our values.
As lifelong learners, we strive to understand the challenges and needs around us and actively make a positive difference.
These symbols represent the values of our organization and are used to reference the history, ritual, or heritage of the sorority.
For detailed information on proper usage of our symbols and colors as part of our visual identity, please reference our Brand Guidelines.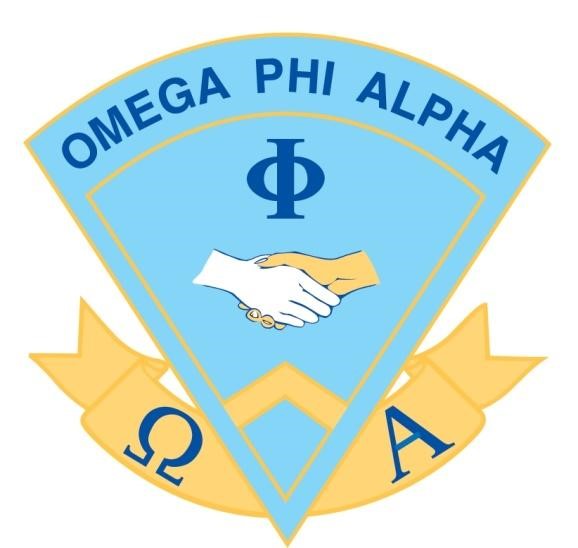 Active Pin
Active pins can only be ordered through the National Office. Active chapter membership directors order pins for all pledges activating.
Replacement pins may be individually ordered through the National Office at office@omegaphialpha.org.
Jewelry-grade active pins may also be purchased through our insignia retailer, Award Concepts.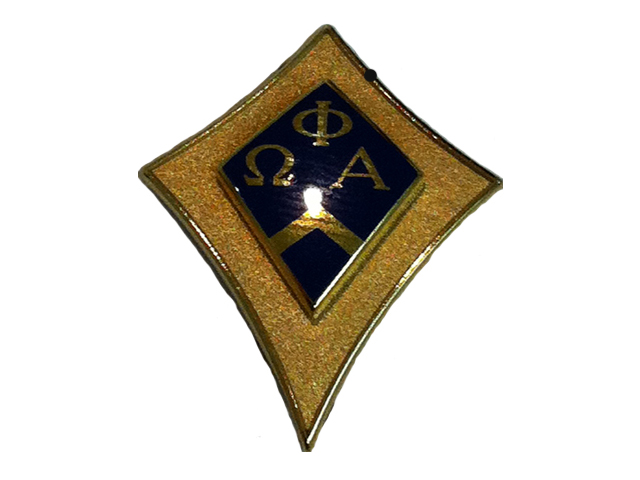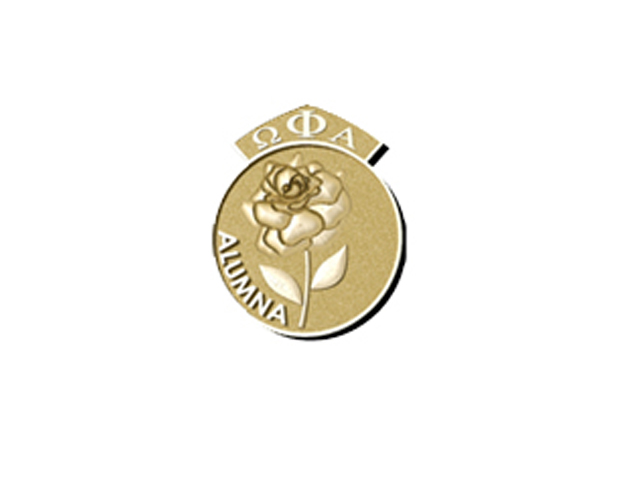 Alumnae Pin
Omega Phi Alpha alumnae have a special way to display pride in their affiliation with the sorority: the alumnae pin. The symbols of the pin represent some of the most enduring qualities of our relationship to the sorority.
The

circle

represents the commitment of an alumnae sister, with no beginning and no end.

The

yellow rose

is, as always, the symbol of our friendship. No longer a delicate bud, this rose is in full bloom just like the mature relationships we cherish.

The

chevron

represents the tie that binds our diverse sisterhood together, and it's pointing skyward because the sky's the limit for a determined OPA alumna!
This pin is beautiful in its standard form, but it's even more special when sisters are inducted into one of the Alumnae Societies.
Pins may be purchased through our insignia retailer, Award Concepts.