The alumnae society program, unveiled at Convention 2005, is Omega Phi Alpha's way to recognize and honor those alumnae sisters who continue to live the cardinal principles each day of their lives, years after their formal initiation into the sorority.
The alumnae society induction is performed at every national convention.
Outside of the convention, the event has been known as Digging for Diamonds (D4D), a weekend-long reunion held in different parts of the country each year. The event usually includes a meet and greet, show and tell, service project, workshops, banquet, and induction ceremony.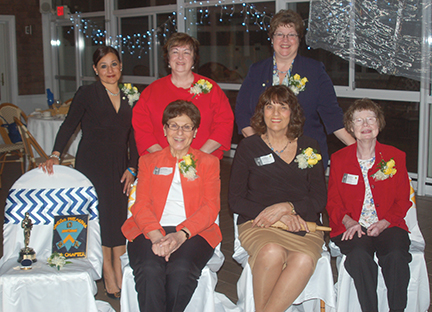 Created by Susan Terzian Award recipients Sheila Beazley Bush Driller (Epsilon) and Ann DeMatteo (Beta), the alumnae society induction ceremony is conducted to honor members who have reached milestone anniversaries of their activation date—when they became sisters.
Celebrating from their activation date recognizes their lifelong membership in Omega Phi Alpha, by including years of active collegiate membership as well as years of alumna membership.
Alumnae sisters who have reached one of these milestones and who are able to attend the next national convention or alumnae societies induction event should reach out to the alumnae membership director to schedule their induction.
Alumnae who have been inducted into an alumnae society are eligible to add a jewel to their alumnae pin to reflect their society membership.
10 years: Topaz Society, symbolized with a blue topaz stone

25 years: Sapphire Society, symbolized with a dark blue sapphire stone

40 years: Diamond Society, symbolized with a diamond stone
Recipients of the sorority's highest honor, the Susan Terzian Award, are recognized by the placement of a single, classically beautiful pearl on their alumna pin.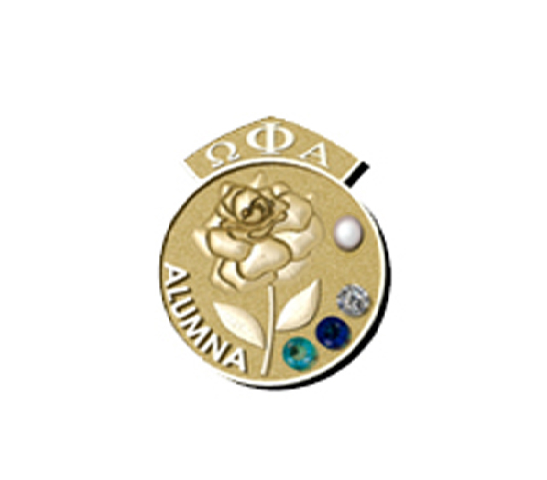 Interested in joining the Alum Societies?
Reach out to our alum societies coordinator to get information on upcoming inductions.