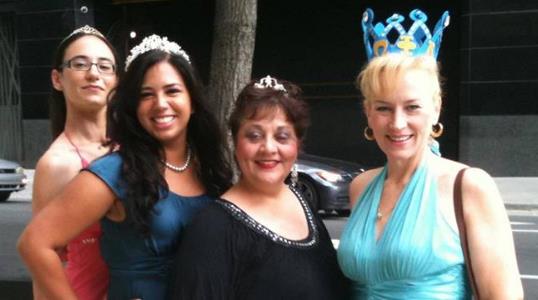 Omega Gamma – Atlanta, GA
Omega.Gamma@omegaphialpha.org
Previously known as the Greater Atlanta Area Alumnae Chapter (GAAAC), Omega Gamma schedules most of their activities in the Atlanta area. In addition to socializing over meals, these alumnae sisters also get together to participate in major Atlanta fundraising events like the Undie Run and to gather holiday care packages for troops overseas.
Omega Delta – Nashville, TN
Omega.Delta@omegaphialpha.org
This alumnae chapter sponsored the South Region Golden Catch-up Senior Ceremony in the summer of 2013 and made it an annual event. Most of their meetings take place over a meal in a Nashville area restaurant, but they welcome ideas for new activities and projects. Omega Delta was previously known as the Greater Nashville Area Alumnae Chapter (GNAAC).
Omega Zeta – Austin, TX
Omega.Zeta@omegaphialpha.org
This reactivated alumnae chapter rotates their meetings around the Austin area. They were on hand to welcome Alpha Nu Chapter at Texas State University in January 2013, and joined their Omega Tau sisters for their annual trek to the outlet mall in San Marcos that year.
Omega Theta – Acadiana/Louisiana
Omega.Theta@omegaphialpha.org
This chapter serves the Acadiana region of Louisiana and holds most of their projects and meetings in Lafayette. Their most memorable activities include a pottery painting outing and a street cleanup.
Omega Tau – Houston, TX
Omega.Tau@omegaphialpha.org
The oldest continuously engaged alumnae chapter, Omega Tau was previously known as the Texas Alumnae Chapter (TAC). Omega Tau has a long tradition of monthly bunko parties, rotating among members' homes in the greater Houston area. They also participate in area fundraising events for charity and road trip to San Marcos each year to shop for the holidays. Omega Tau received the inaugural Outstanding Alumnae Chapter award at Convention 2016.
Omega Iota – Phoenix, AZ
Omega.Iota@omegaphialpha.org
This alumnae chapter, recognized in 2015, holds their meetings and activities in the greater Phoenix area. One of their favorite service projects is with the Tempe packing facility for Feed My Starving Children. Check out their website for more information. The chapter received the Outstanding Alumnae Chapter award at Convention 2017.
Provisional Alum Chapters
Don't see an alum chapter in your area?
Omega Phi Alpha is always seeking interested and motivated alums to establish a new alumnae chapter or reactivate an inactive alumnae chapter. To reinstate or begin a new alumnae chapter, contact the alumnae membership director with the following information in writing:
Location of the future chapter (ex: Nashville, TN)

Full names and original collegiate chapter of each alumnae sister in the petitioning group

Chapter goals and reasons for requesting alumnae chapter affiliation

Contact information (email, phone) of the interest group leaders

Include a non-refundable petition fee of $25 to be paid to the order of Omega Phi Alpha National Office
At the end of the provisional period, the alumnae chapter interest group will receive a Greek-letter designation and official recognition as an alumnae chapter.
Review the alumnae chapter guidelines at the "Learn More" link below on how to maintain alumnae chapter designation.